Massages / Spa packages for singles / couples or groups /
A variety of treatments in the hammam and much more
Massages and subscriptions
massage
It's time to pamper yourself with a massage

You can choose the procedure for one steam room or for groups
duration: 45\60\75\90 minutes
It is recommended to take a course of 10-12 procedures
Types of massage:
combined
Swedish
massage for pregnant women
sports
relax Nirvana
in 4 hands
limb massage
reflexology
lymphatic drainage
Chiropractic
Therapeutic massage, chiropractic, kinesio taping
Kinesio taping
A simple and effective method for the treatment of sprains, muscle pain and other injuries, as well as bruising and edema, using a special adhesive tape (taip). The method was developed by the Japanese reflexologist and chiropractor Kenzo Kaze in the 70s of the XX century, and has been used all over the world for more than 20 years.
Services:
Taping
Master class on home taping of your own problem
Aesthetic taping and master classes
Chiropractic

It is recommended to come in comfortable clothes. Please bring all documents from the doctor, if any.
Procedure time not set
Massotherapy
Please bring all documents from the doctor, if any.
duration 30\45\60 minutes

estetic
Esthetics
Body
Anti-cellulite massage and additional procedures accelerating the result
Massage is focused on the layer of subcutaneous fat and is performed only locally in areas with a pronounced cosmetic defect.
duration 30\45\60 minutes
manual / gouache / vacuum / combined
A course of 10+ treatments is recommended.
Face
Facial massage is an effective remedy for combating fatigue, wrinkles and puffiness.
cosmetic / sculptural / plastic / myofascial / lymphatic / chiromassage / guasha / vacuum / massage with herbal bags
A course of 10+ procedures is recommended.
Face testing and development of a personal program as a gift for the purchase of 10 procedures
adds
Additional procedures
Peeling 30 minutes
Exfoliation is a very important part of any body care program. This is not just the removal of dead skin cells, rather, it is a unique procedure for renewing your body. Peeling can be done both as an independent procedure and as part of a full-fledged spa treatment. This procedure is effectively used in stress reduction programs, whole body detoxification programs, anti-cellulite programs and skin renewal procedures. This procedure improves blood circulation and lymph microcirculation, thereby contributing to the renewal and rejuvenation of the skin.
The use of peeling after the sauna, when all the pores are open, enhances the effect of removing dead skin cells. And if such a procedure is done before the start of the beach season, then the tan will be more durable and beautiful.
rice peeling
cleansing salt peel
coffee peeling
Phyto sauna 15 minutes

This sauna can be used even by those who suffer from high temperatures and do not tolerate the Finnish steam room or the Russian bath. The reason is simple: during the procedure in a cedar barrel, your head is outside. This means that there is no pressure on the blood vessels and you can breathe freely. Thanks to herbal essential oils and herbal decoctions, the sauna helps to regulate metabolism, cleanse and rejuvenate the skin. Many experts recommend adding this sauna to all anti-cellulite and weight loss programs, and for good reason: heated skin absorbs 40% more active substances through the pores than in any other procedure.
Warming up on hot stones in a traditional Japanese bath Furako 15 minutes
This is a unique procedure that came from Japan to deeply warm up the muscles and joints, and prepare the body for a massage.
Wraps 40 minutes
It is the easiest and most enjoyable way to fight excess weight and cellulite. Many experts note that this tool is very effective and helps to remove fat in the most problematic areas, improve skin tone, increase its density and elasticity. The work of wrapping is similar to the procedure of a sauna, only softer. During the procedure, the pores of the skin open and excess fluid and accumulated toxins are removed through them.
kaolin (white clay) with green tea
green clay
chocolate
aromatherapy
dead sea mud
GREEN FRESH
The aroma of the freshness of herbs, the strongest lifting effect and the natural composition, these are the distinctive properties of the fresh bright gel mask! Fresh is a nice addition to the massage you ordered.
reyki
Reiki sessions can be single or a course of 10 treatments.
Reiki is a Japanese word, one of its meanings is "method of natural healing". The method was developed in Japan in 1922 by Mikao Usui, the founder of the method. The basis of the method is the use of universal vital energy. The practitioner is a channel for the transfer of energy, including the natural resources of human self-healing. Reiki sessions enhance the effect of other body-oriented practices. There are several types of sessions in the Reiki system
Mental healing.

In Japan, they say "Heal the mind, the body will be healed", that is, a healthy mind will find ways to heal the body. In this session, the master places his hands on his head, transferring Reiki energy. Therapeutic sounds and individually selected affirmations are used.
The duration of the session is about 30 minutes.
Contact session

After talking with the master and forming a request, you lie down on the massage table in comfortable clothes. The master smoothly moves his hands from head to feet, filling you with Reiki energy. Usually the master uses therapeutic sounds and relaxing music. Feelings during the session can be very diverse, each person is individual 😉 By the end of the session, there is a deep relaxation, a feeling of fullness and lightness in the body.
The session lasts about an hour. To obtain a significant result, the masters recommend a course of 10 sessions.
Brief session
You are lying on a massage table in comfortable clothes or sitting, the master smoothly moves his hands along your main energy centers, filling you with Reiki energy. A short session can be an adjunct to enhance the effect of massage, a tool to "recharge the batteries", relieve stress/anxiety, reduce pain.
The duration of the session is about 20 minutes.
Remote session.

The client can be located anywhere in the world! You organize yourself a quiet place where no one will disturb you for half an hour, turn on pleasant calm music and receive Reiki energy. The request and the start time of the session are discussed with the master in advance. A session can be a one-time session to relieve stress and anxiety, or a course session to solve long-standing problems. The duration of the session is about 30 minutes.
Spa packages CLASSIC starting from 300₪
nirvana
Spa package Nirvana 60 minutes
Phyto sauna barrel is a real pearl of our SPA. This sauna can be used even by those who suffer from high temperatures and do not tolerate a Finnish or Russian bath followed by a couples massage for 45 minutes. At the end, a foot massage on a professional machine with a glass of aromatic tea! Nirvana is waiting for you!
stounterapia
Spa package Furaco stone therapy 60 minutes

We start with warming up on hot stones in the Japanese Furako cedar bath for 15 minutes and continue with a Japanese massage with stones for 45 minutes

At the end of the foot massage on a professional machine with a glass of aromatic tea
pinukkokus
Coconut Paradise 50 minutes
Deep peeling massage with hydrophilic coconut oil and organic green tea. In addition to the benefits and pleasure of massage, the tonic effect of peeling will make your experience unforgettable. Hydrophilic coconut oil deeply cleanses the skin, while green tea gently exfoliates dead skin cells. As a result, we get smooth, rejuvenated skin and a satisfied face after a deep tonic massage.
Spa packages PREMIUM starting from 420₪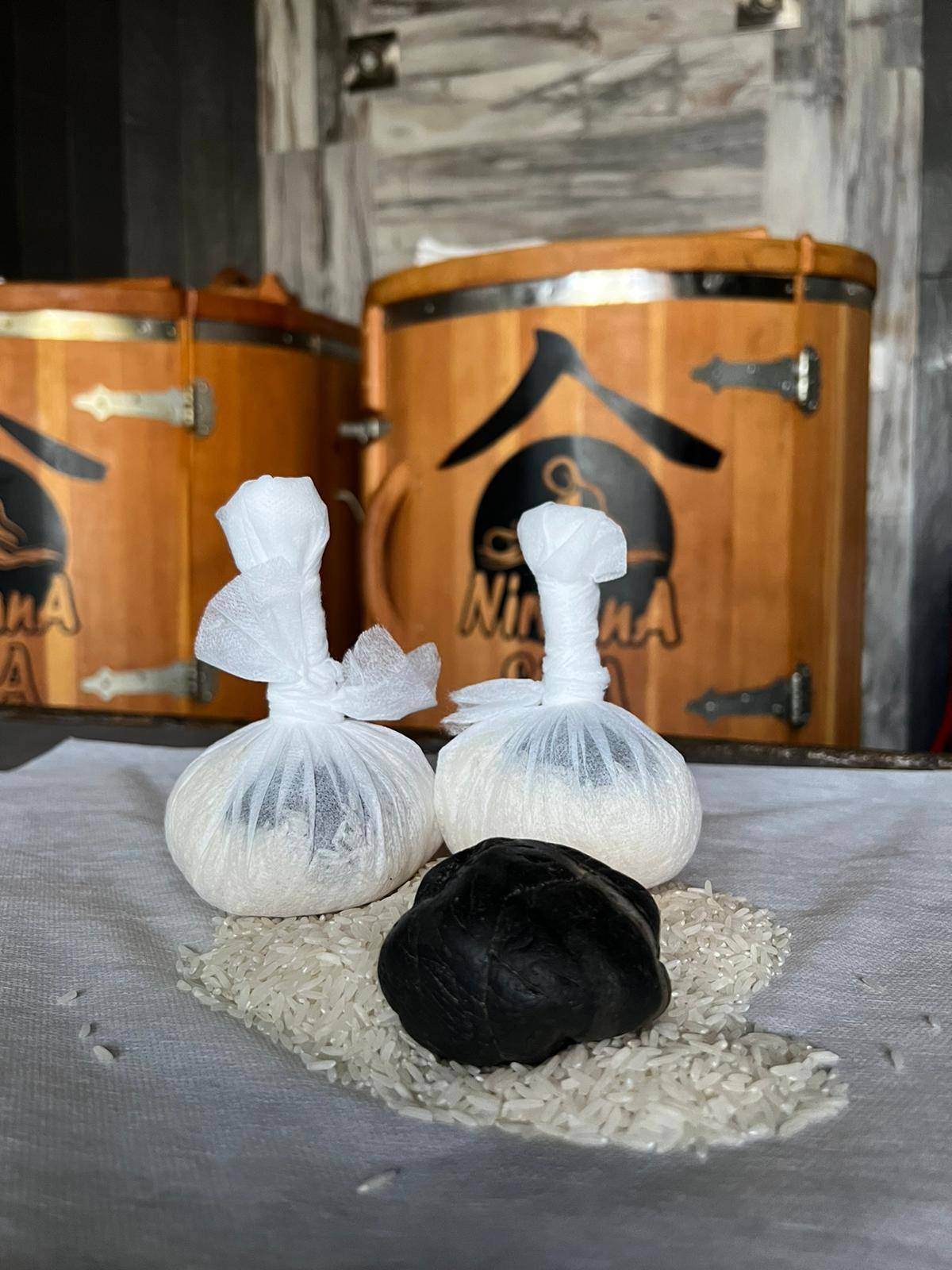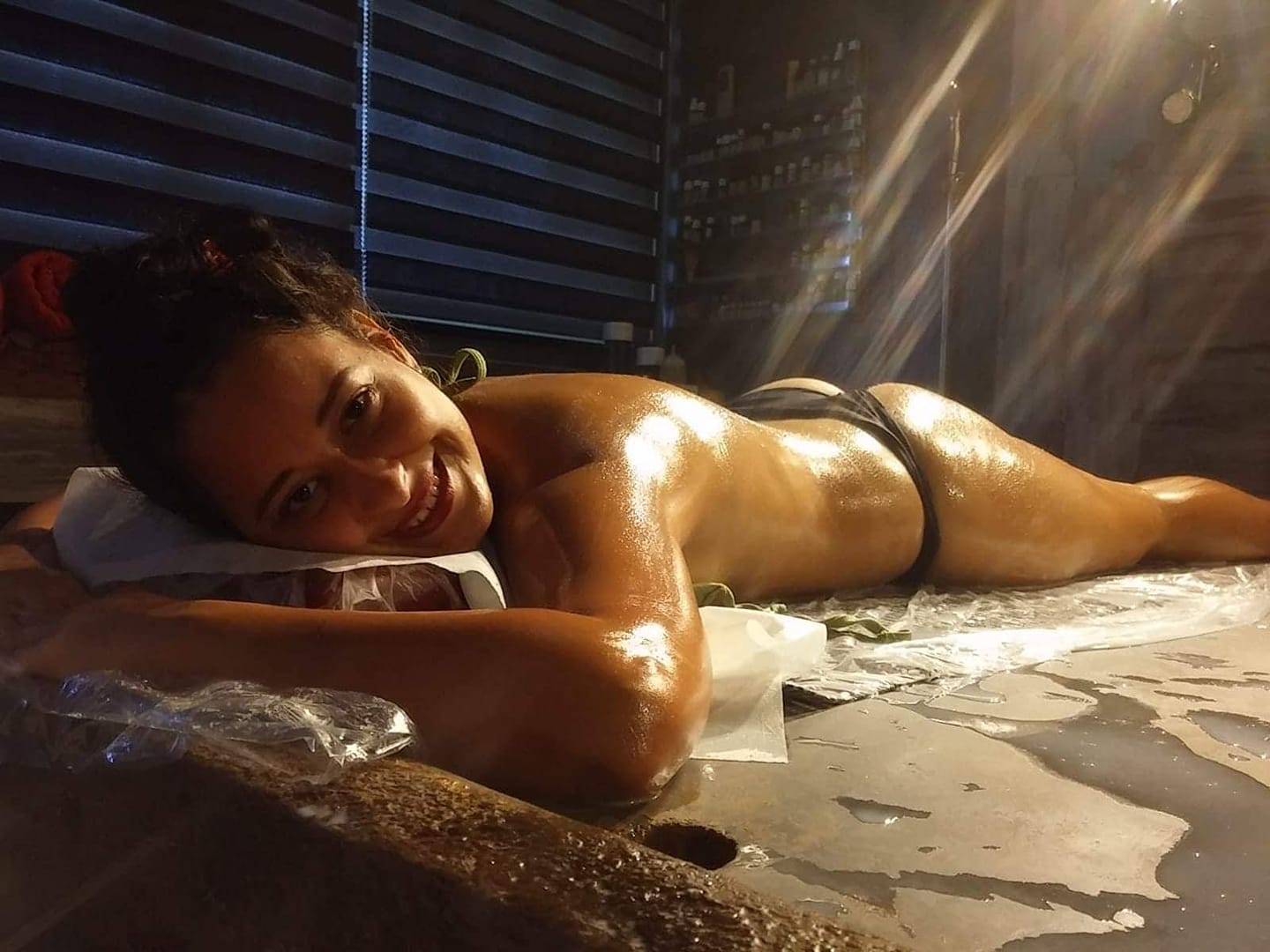 hammam
Classic hammam premium 75 minutes
An exotic procedure based on deep warming and cleansing of the body, including a relaxing massage with a special soap foam and gentle peeling with a Turkish glove.
The procedure includes:
Bathrobe, slippers, disposable underwear, towel, locker for each client
Phyto barrel 15 minutes
Relaxing soap massage - 30 minutes
Turkish glove body peeling - 20 minutes
Vichy shower - 10 minutes
Tea drinking

samurai
Spa package Samurai premium 75 minutes
The traditional Japanese rice bag massage is one of the oldest methods of deep relaxation, which combines the gentle effects of heat, acupressure and aromatherapy. The healing warmth of rice bags and the professionalism of our masters will fill your body with new forces and give you an unforgettable experience.
The procedure includes:
Bathrobe, slippers, disposable underwear, towel, locker for each client
Warm-up of your choice: – 15 minutes
Phyto barrel
Hot stones in the Furaco cedar bath
Traditional Japanese Massage with Rice Bags – 25 minutes
Body oil massage - 20 minutes
Anti-stress head massage and light facial massage - 15 minutes
Tea drinking


chocolad
Chocolate massage premium 75 minutes
The procedure is carried out using real 100% chocolate. Heated chocolate has a beneficial effect on metabolism, skin rejuvenation. The complex itself is an excellent anti-stress and relaxing agent. Chocolate massage is often used in weight loss and weight loss programs.
The procedure includes:
Bathrobe, slippers, disposable underwear, towel, locker
Phyto barrel 15 minutes
Body peeling with a Turkish glove - 20 minutes
Hot chocolate body massage - 20 minutes
Vichy shower - 10 minutes
Head massage or facial massage - 15 minutes
Tea drinking

whiteclay
Premium kaolin soothing massage 75 minutes
White clay, also known as kaolin, has a mild exfoliating effect, activates blood circulation, disinfects, slightly whitens, removes toxins, and soothes sunburned skin. The procedure is truly indispensable for preparing for a celebration or festive event.
The complex includes:
Bathrobe, slippers, disposable underwear, towel, locker
Phyto barrel 15 minutes
Body peeling with a Turkish glove - 20 minutes
Body massage with white clay and green tea - 20 minutes
Vichy shower - 10 minutes
Head massage or facial massage - 15 minutes
tea drinking

aromaterapia
Aromatherapy premium 75 minutes
The sacrament of aromatherapy is based on the use of a combination of aromatic mixtures and the healing power of the hands. Essential oils, concentrated therapeutic extracts of plants, have the ability to penetrate deep into the skin, positively affecting not only the physical condition, but also the energy of the body.
The complex includes:
Towel, slippers, disposable underwear, bathrobe,
Phyto barrel 15 minutes
Gentle peeling for the body with a Turkish glove - 20 minutes
Vichy shower - 10 minutes
Wrap with individually selected essential oils - 40 minutes
Head massage - 15 minutes
tea drinking
Cleopatra
Cleopatra Milk and honey premium 75 minutes
Milk peeling massage in the hammam will gently cleanse the skin and prepare it for wrapping with honey and hydrophilic coconut oil, which removes toxins, moisturizes and saturates the skin with vitamins and minerals.
Vacuum facial massage with hydrophilic coconut oil deeply cleanses the skin, evens out tone and gives the skin elasticity. The healing power of milk, honey and coconut oil will give your skin freshness and radiance, and the body - beauty and elasticity!
The procedure includes:
Bathrobe, slippers, disposable underwear, towel, locker for each client
Japanese barrel sauna - 15 minutes
Peeling massage with milk - 20 minutes
Body wrap with honey and hydrophilic coconut oil – 20 minutes
Vacuum facial massage with hydrophilic coconut oil - 20 minutes
Vichy shower - 10 minutes
tea drinking
tapuzim
Massage with hot oranges premium 75 minutes
Invigorating and delicate citrus aroma combined with the healing properties of orange pulp gives an unforgettable experience! Phytoncides help remove toxins from the body, orange essential oil contained in the peel tones the nervous system, strengthens the immune system and gives a good mood.
The procedure includes:
Disposable underwear, towel, locker
Japanese barrel sauna - 15 minutes
Relaxing massage with hot oranges - 30 minutes
Working out the muscles of the neck and shoulder - 10 minutes
Peeling wrap with orange juice and cognac - 20 minutes
Vitamin face mask - as a gift
tea drinking
Spa packages LUXURY starting from 680₪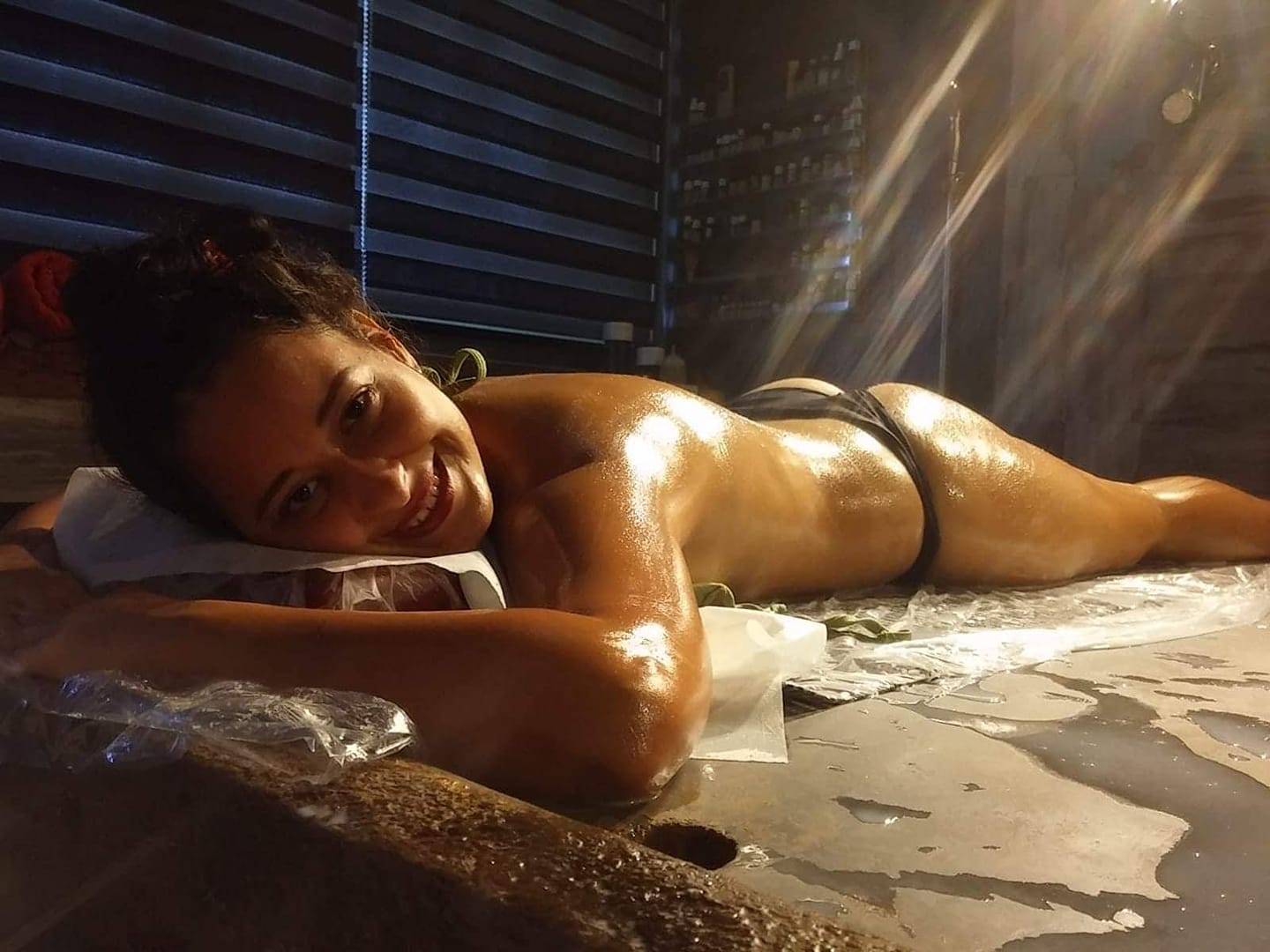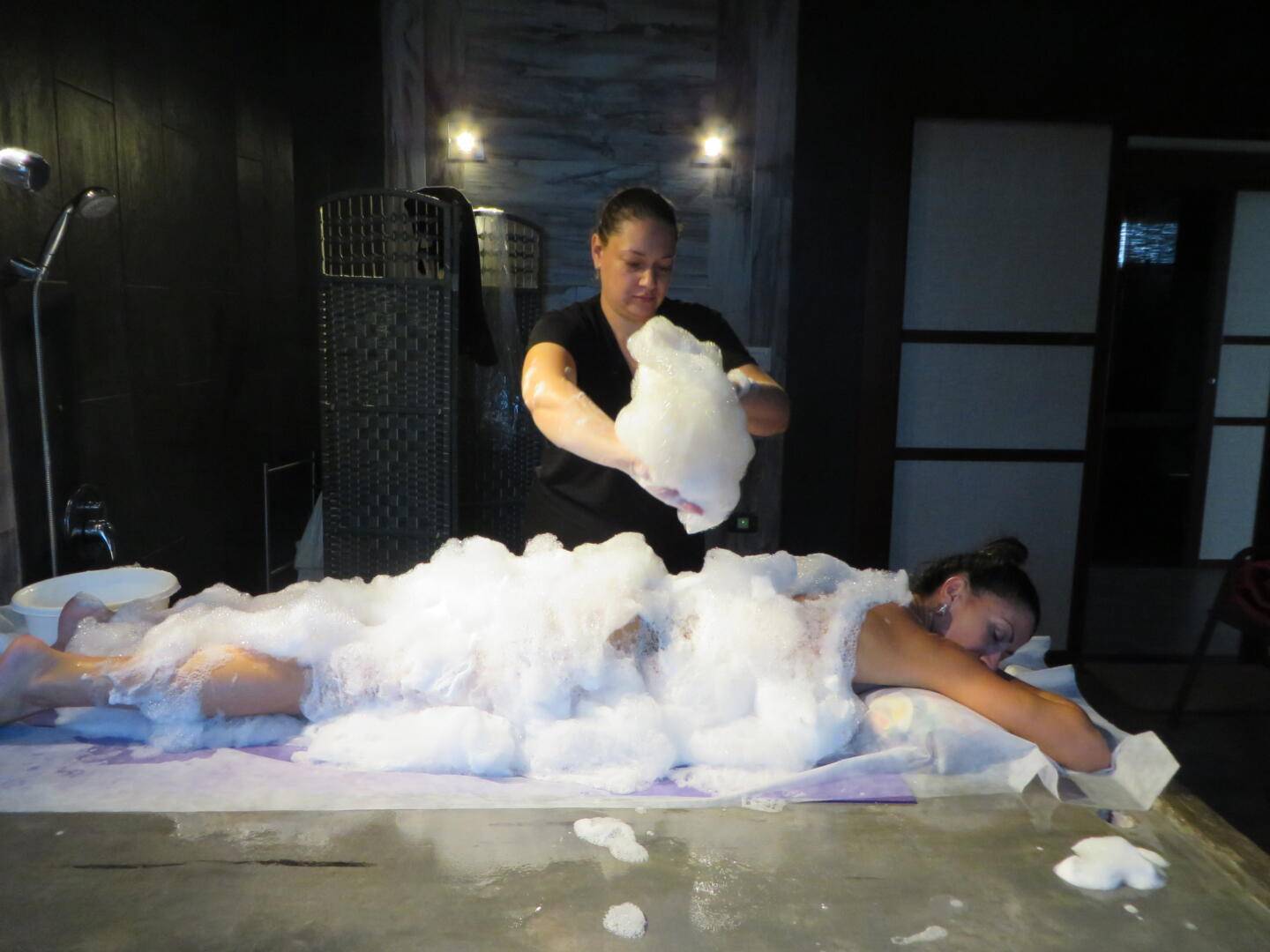 nirvanalux
Complex Nirvana luxury 120 minutes
A luxurious, customizable spa package!
The perfect gift!
The complex includes:
Towel, slippers, disposable underwear, bathrobe, locker
Premium treatment of your choice - 75 minutes

Combined body massage - 45 minutes
Tea drinking

ganeden
COMPLEX "EASTERN PARADISE" luxury 120 MINUTES
The Turkish bath is an ancient secret of well-being and youth. Rest on a hot stone, in a cloud of soap foam, a combined massage that relieves tension in the muscles of the body - all this will give you an unforgettable experience.
The complex includes:
Towel, slippers, disposable underwear, bathrobe, locker for each client. Combined body massage - 45 minutes
Relaxing soap foam massage - 30 minutes
Gentle peeling with a Turkish glove - 20 minutes
Vichy shower - 10 minutes
Tea drinking

ofuro
IMPERIAL JAPANESE BATH OFURO luxury 120 MINUTES
The ceremony of visiting the Japanese bath carries a huge energy meaning and healing effect. It is considered extremely beneficial for health and fatigue and has almost no medical contraindications. A visit to a Japanese bath takes from one and a half to three hours and, in terms of its healing and relaxing effect on the body, is equivalent to a whole day of staying at a health resort. The complex includes:
Bathrobe, slippers, disposable underwear, towel and locker for each client.
Preliminary cleansing of the skin with a Japanese towel - 10 minutes
Immersion in the Ofuro font with warm water and aroma oils, with a relaxing massage of the neck-collar zone and the head - 20 minutes.
Warming up on hot stones in the Furako cedar bath - 15 minutes
Massage "Nirvana" (45 minutes) will fill you with energy and give relaxation to tight muscles.
Photo shoot in Japanese kimono
Tea drinking and relaxation in the Japanese suite - 45 minutes


tokio
SPA PACKAGE TOKYO INCLUDING OFURO luxury JAPANESE BATH 135 MINUTES
This procedure carries a huge energy meaning, healing effect and deep relaxation. Immersion in the Ofuro font with warm water and aroma oils, with a relaxing massage of the neck-collar zone and the head, will relieve stress and fatigue.
After that, a traditional Japanese massage with rice bags awaits you! This is one of the oldest methods of deep relaxation, which combines the gentle effects of heat, acupressure and aromatherapy. The healing warmth of rice bags and the professionalism of our masters will fill your body with new forces and give you an unforgettable experience.
The complex includes:
Bathrobe, slippers, disposable underwear, towel and locker for each client.
Preliminary cleansing of the skin with a Japanese towel - 10 minutes
Immersion in the Ofuro font with warm water and aroma oils, with a relaxing massage of the neck-collar zone and the head - 20 minutes.
Massage with Rice Bags - 45 minutes.
Photo shoot in Japanese kimono
Tea drinking and rest in suite - 45 minutes

Spa packages ROYAL starting from 720₪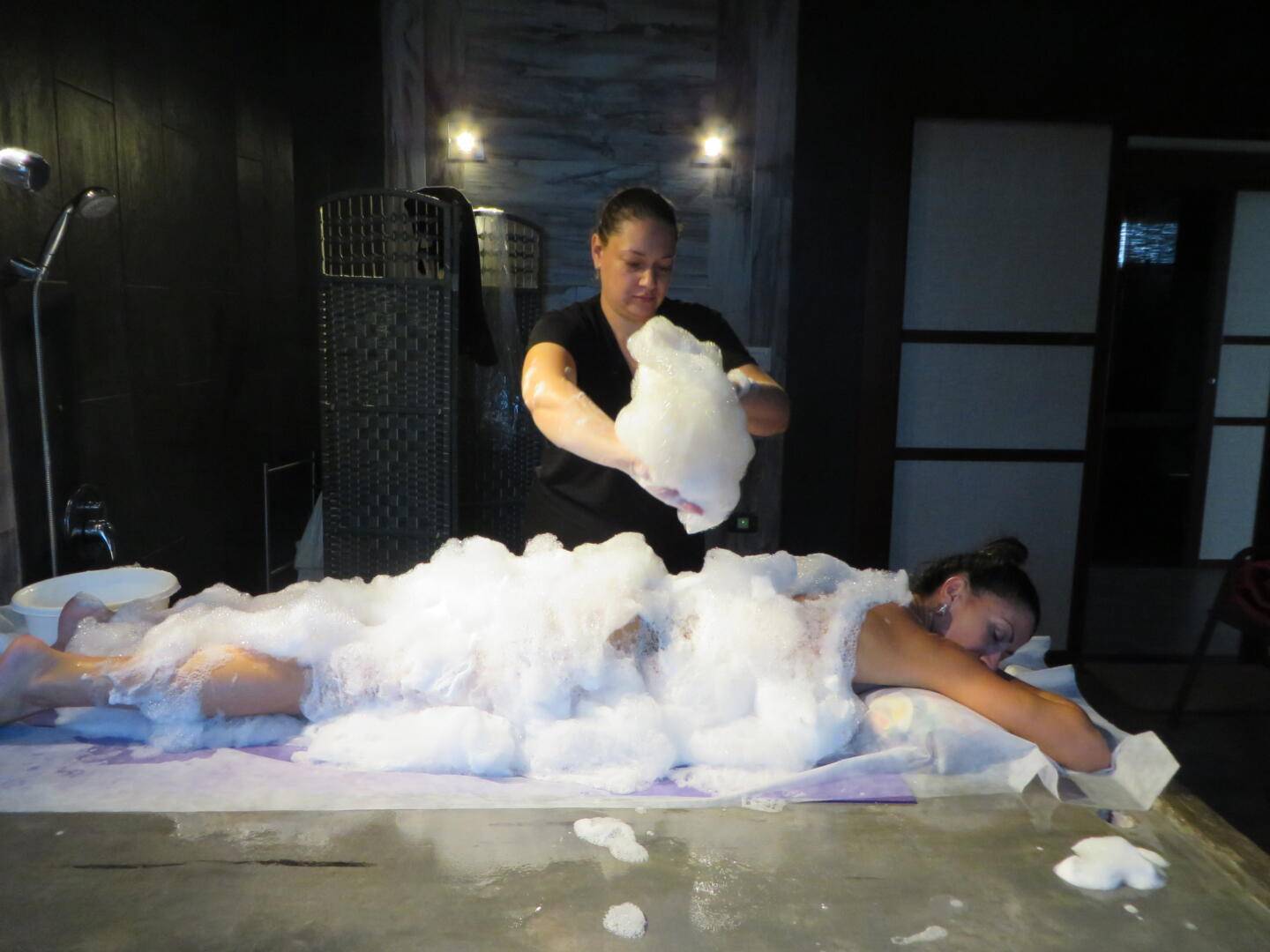 royal
Complex Royal ROYAL 130 minutes
The complex includes:
Towel, slippers, disposable underwear, bathrobe, locker for each client.
Cedar phyto barrel - 15 minutes
Body peeling of your choice – 30 minutes
Wrap of your choice - 30 minutes
Head massage or facial massage - 15 minutes
Vichy shower - 10 minutes
tea drinking
Combined body massage - 45 minutes

chocoladRoyal
Complex "Chocolate Happiness" royal 130 minutes
Chocolate has long been known and loved by mankind, because it has a huge amount of useful substances, softens and tightens the skin, stimulates the activity of nerve cells, improves mood and general tone. The complex includes:
Towel, slippers, disposable underwear, bathrobe, locker for each client.
Cedar phyto barrel - 15 minutes
Coffee peeling for the body - 30 minutes
Hot chocolate wrap - 30 minutes
Head massage or facial massage - 15 minutes
Vichy shower - 10 minutes
Tea drinking
Combined body massage - 45 minutes

Extra charge on Fridays, Saturdays and holidays
50 shekels per person