WE INVITE YOU TO DIVE INTO AN AMAZING AND BEAUTIFUL WORLD.
Nirvana Spa is a place that harmoniously combines the best traditions of Buddhist medical practices, luxurious ceremonies in a hammam, the discreet sophistication of Japanese imperial rituals and modern, practical European service.
Smoldering incense fires, light scents of oriental herbs and flickering lights create an unforgettable atmosphere. All procedures in our salon are presented by professionals with vast experience. We use only high quality natural oils without preservatives, combined with vitamins and herbs as needed.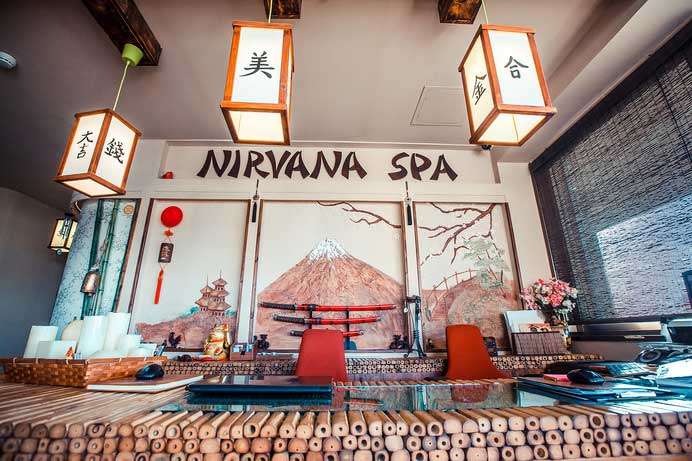 SPA NIRVANA – UNIQUE, RELAXING AND EXCITING TREATMENTS FOR BODY AND SOUL!
Looking for a gift? Spa for two? Good professional massage? Celebrate a celebration? Something special?
If you are looking for where to go in Israel, Nirvana Spa is the perfect place! In our SPA, you can simply pamper yourself and get rid of the stress that accompanies us in modern life, plunge into the enchanting atmosphere of distant Japan and experience the true bliss of taking care of your body!
SPA Boutique "NIRVANA" has no analogues in Israel! You can plunge into the magical atmosphere of a Japanese bath and carry out relaxation procedures based on the rich experience and traditions of classical Japanese baths. With us you can spend several hours in harmony with oriental motifs, breathing in soothing aromas, enjoying procedures and various massage techniques that will help you rejuvenate, enjoy the atmosphere of peace and quiet, cheer up and feel the joy of life.
We are pleased to provide you with the opportunity to rejuvenate, heal and cleanse your body of toxins, as well as gain an attractive figure. SPA-salon "NIRVANA" is a complex of physiotherapeutic procedures using water, salt, therapeutic mud, algae, medicinal herbs and other various gifts of nature.
The experienced and attentive Spa staff will offer you a free consultation and select an individual wellness and relaxation program. Unforgettable pleasure and many pleasant surprises are waiting for you!